A 3 - MONTHS PROGRAM
+ 3 months mentorship and paid internship
Also featuring Q & A session with tech giants employees from Google, Tesla, Youverify, M&P O'Sullivan Ltd, Udemy etc...
Requirement:
A laptop and a strong internet connection
Is it free? YES! our boot camp program is completely free however there's an affordable fee attached to the certification exam at the end of the program.
Register Now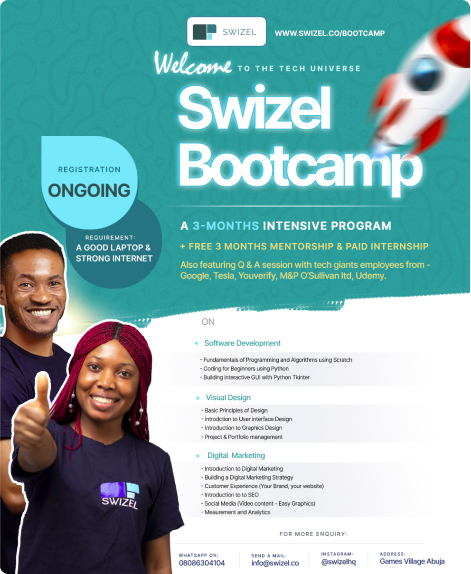 Our Programs
Software Development
Fundamentals of Programming and Algorithms using Scratch
Coding for Beginners using Python
Building interactive GUI with python Tkinter
Visual Design
Basic principles of design
Introduction to user interface design
Introduction to graphics design
Project & portfolio management
Digital Marketing
Introduction to Digital Marketing
Building a Digital Marketing Strategy
Customer Experience (Your Brand, Your Website)
Introduction to SEO
Social Media (Video Content - Easy graphics
Measurement and Analytics
FAQ
YES! our boot camp program is completely free however there's an affordable fee attached to the certification exam at the end of the program.

3 months. You also have an additional 3 months of free mentorship and 3 months of paid internship if you qualify for the internship position.

You will learn how to make beautiful websites, applications and fun games, beautiful designs, manage projects, manage ads, make websites easier to find and much more depending on the program you choose.

The short answer is YES. You can qualify for a paid internship position if you meet our selection criteria from this particular program, we will also retain Interns for job positions if they perform satisfactorily.

We have both virtual(Online) programs and a physical coaching program. schedules are flexible and will be set with your coaches/mentors.

Yes. The webinar is free if you register. In the webinar, we will tell you all the cool stuff you will be doing on the program, plus you get to meet your coaches and fellow tech bros/sis'